You already know that Milwaukee is a haven for German-style eats and drinks (hello, brats and beer!) and that Lake Michigan's shoreline is a great place to jog or walk. Wisconsin's largest city is also a curator of neighborhoods highlighting cultural crafts, dining and shopping, from Brady Street's Italian roots to the South Side's Latin flavors.
No matter if you are into architecture or food—or maybe both—Milwaukee truly shines come summer with a different ethnic festival every weekend. Most are held at Henry Maier Festival Park on the eastern edge of the Third Ward. Among the most popular are German Fest (late July) and Irish Fest (mid-August). In mid-July locals "storm the Bastille" in a 5K run as a kick-off to the four-day Bastille Days festival in Cathedral Square in downtown Milwaukee. Whether you crave a soft-adventure itinerary or a deep dive into gastronomy, here are some ideas just for your personality type.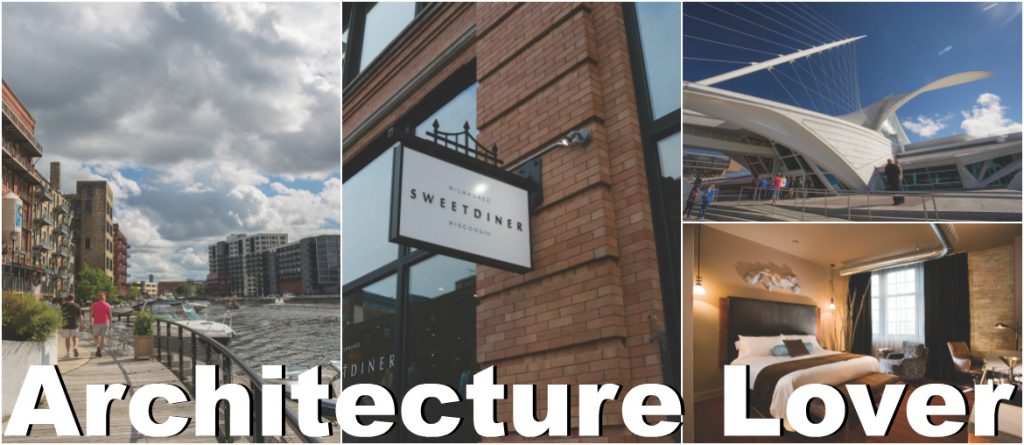 WHERE TO STAY
Iron Horse Hotel
Ten years ago, this 1907 brick warehouse in Walker's Point transformed into a cool 100- room, pet-friendly hotel. Luxe baths in each of the loft-style rooms, plus exposed-brick walls and industrial-era antiques throughout, join three dining and drinking venues. theironhorsehotel.com
MORNING
Historic Milwaukee tour
Historic Milwaukee Inc.'s walking tours span the city, whether it's Bay View or Brady Street, and discuss the city's architectural styles, plus Brew City history. You even might be inspired to become a Historic Milwaukee member, supporting further preservation! historicmilwaukee.org/tours
LUNCH
Third Ward exploring
After lunch at the year-old Sweet Diner (which is way cooler than a retro diner—think globe-style, blown-glass chandeliers and Insta-friendly all-day brunch dishes) in the Third Ward, pop over to the nearby The Home Market. Owner Kate Kazlo is an alum of Rachel Ashwell's Shabby Chic brand. sweetdiner.com, shophomemarket.com, historicthirdward.org
AFTERNOON
Milwaukee Art Museum
Santiago Calatrava's first North American project (the Quadracci Pavilion at the Milwaukee Art Museum) debuted in 2001 and was crowned "Design of the Year" by Time Magazine. Celebrated for its Outsider and Haitian art, the museum also holds Warhols and O'Keefes in its collection. mam.org
DINNER
Avalon Theater
Eat dinner and enjoy a first-run movie inside the recently reopened and fully restored Avalon Theater in Bay View. Joe Schreiter, an alum of The Bartolotta Restaurants, helms the restaurant Mistral (under the same roof ) where items like a meatball sandwich or spiked root-beer float are brought to your seat. avalonmke.com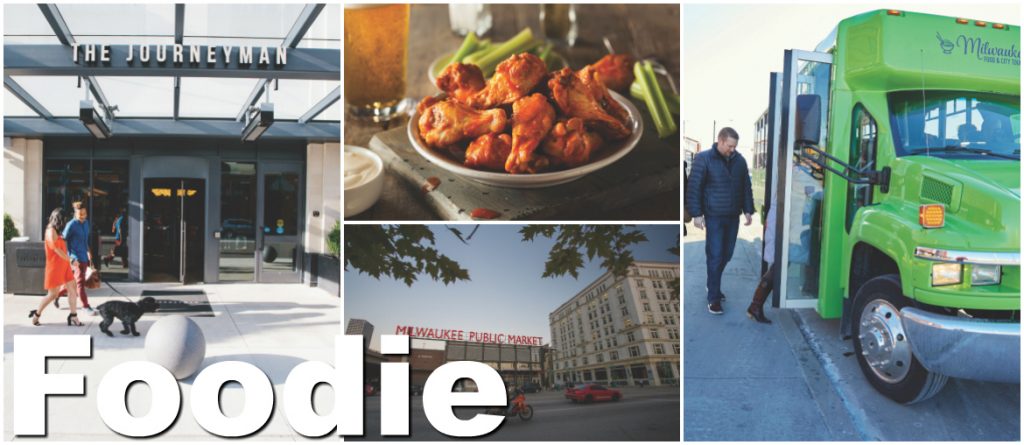 WHERE TO STAY
The Journeyman Hotel
Former "Top Chef " contestant Heather Terhune cooks at The Journeyman Hotel's Tre Rivali. Her Vermont farming roots—and love for Wisconsin cheese— all mingle here with past gigs in Chicago and San Francisco. Take the elevator to The Outsider, the rooftop bar, for one of the best views in town. journeymanhotel.com
LUNCH
Sherman Phoenix
Until recently, most of Milwaukee's food scene lay east of I-43, but now Sherman Park gets its turn with a group of black-owned food- and drink-related businesses, from buffalo wings to spring rolls, under one roof for a veritable dine-around. shermanphoenix.com/tenants
AFTERNOON
Milwaukee Food & City Tours
Sign up for a trek (by bus, foot or streetcar) into a themed slice or sip of the city's food culture, whether that's Bloody Marys and brunch, burgers and custard, or pre-Prohibition historic bars. Some are held during lunch hours. milwaukeefoodtours.com
EARLY EVENING
Milwaukee Public Market
Stalls at this indoor marketplace riff on Seattle's Pike Place Market. Find award- winning artisan Wisconsin cheese, sushi, tacos, red velvet cupcakes, flutes of Champagne and even rosewater lemonade. Or, sign up ahead of time and take a cooking class (most are held at 5 or 5:30 p.m.). milwaukeepublicmarket.org
DINNER
Sanford
Milwaukee Magazine chef of the year (also a James Beard award-winning chef ) Justin Aprahamian plates tasting menus that wow at this fine-dining spot that began in 1989 as the next chapter of founder Sandy d'Amato's parents' grocery store. sanfordrestaurant.com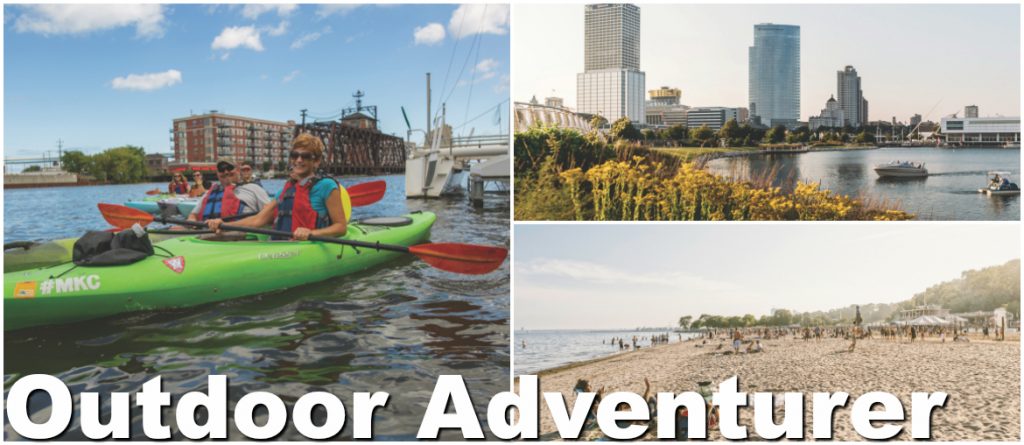 WHERE TO STAY
The Westin Milwaukee
The brand's wellness angles (like super-foods cookies) and proximity to the lakefront make this a win-win for nature-loving joggers. While definitely indulgent, the food in the hotel's Italian eatery Stella Van Buren is not to be missed.
MORNING
Lakeshore State Park
Kick off the day with a stroll through Lakeshore State Park behind Discovery World. It's a rare state-owned green space within a large city, and hugs Lake Michigan.  dnr.wi.gov/topic/parks/name/lakeshore
MIDDAY
Milwaukee Kayak Company
Rent a kayak or take a guided group excursion down the Milwaukee and Menomonee Rivers. Tie up at a restaurant or brewery dock in the Third Ward (such as the Milwaukee Ale House) for a well- deserved paddling break. milwaukeekayak.com
AFTERNOON
Schlitz Audubon Nature Center
Love bird watching? This 185-acre sanctuary in Fox Point along Lake Michigan is your gold mine, with 276 species spotted here since 1974, and hiking trails to enjoy. Check their website for programming. schlitzaudubon.org
DINNER
Bradford Beach
Drinks on the beach? Yes, please. Assemble a picnic at Milwaukee's newest food hall, Crossroads Collective, on the East Side then hike down the hill to Bradford Beach, where Tiki cocktails are served under a thatched-hut roof. bradfordbeachmke.com/main.html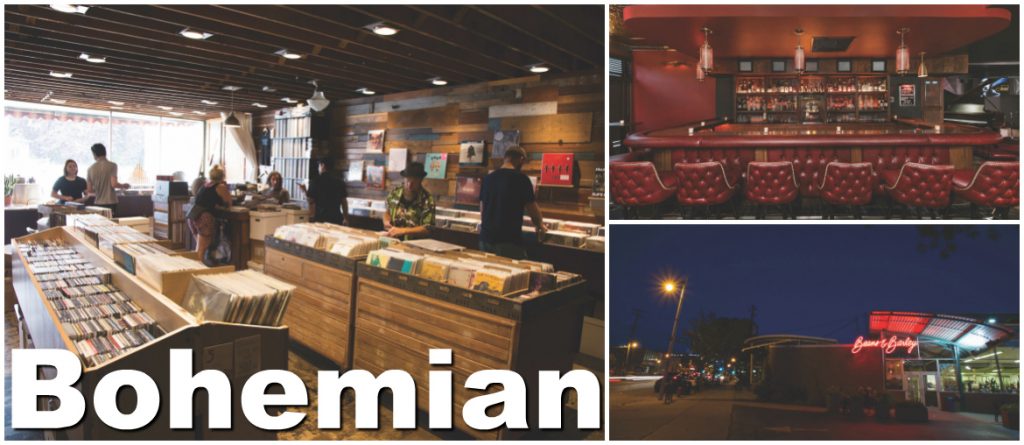 WHERE TO STAY
Kinn Guesthouse
Open since 2017, the no-frills (but high- design) eight-room Kinn Guesthouse is above Kindred, an eatery, along Kinnickinnic Avenue, the main drag in Bay View. Make new friends in the communal lounge and kitchen. kinnmke.com
BREAKFAST
Beans & Barley
After scoring some fun finds at the South Shore Farmers Market in Bay View, head to the East Side. Vegetarians have loved this healthy twist on breakfast since the '70s, but so do carnivores. Sold in the attached market are vegan cupcakes, magazines and floral aprons. beansandbarley.com
AFTERNOON
Kinnickinnic Avenue
Flip through vinyl records at Rushmor Records and Acme Records, browse vintage duds at Alive & Fine's curated collections and stop for coffee at Hi-Fi Café, where Formica tables and a jukebox pair nicely with chai tea. rushmor.com, acmerecordsmke.com, aliveandfinestore.com
DINNER
Barnacle Bud's
Many locals don't even know about Barnacle Bud's, a Key West-themed fish shack along the Kinnickinnic River bordering Bay View. The menu features oysters, BBQ and other seafood dishes. Grab a picnic table behind the nautical rope. barnaclebuds.com
EVENING
Jazz Estate and At Random
Take in live jazz at the Jazz Estate on the East Side, then enjoy a '50s-themed nightcap (Grasshopper, anyone?) at owner John Dye's other establishment, the recently reopened At Random in Bay View, before retiring back to Kinn Guesthouse. jazzestate.com, atrandommke.com

Photos courtesy of Visit Milwaukee
---
This article originally appeared in the 2019 spring/summer issue of Experience Wisconsin magazine. The contents of this article were checked for accuracy when it was published; however, it's possible some of the information has changed. We recommend you call first if you have specific questions for the destinations, attractions or restaurants mentioned in this article.
No portion of this article or magazine may be reproduced without prior written permission by the publisher.