Grab your imagination and join us in Whitewater, WI for our inaugural Whitewater Storytelling Festival!
Nestled in the beautiful and inspiring Kettle Moraine State Forest, Whitewater is home to the University of Wisconsin-Whitewater, the Young Auditorium and a robust artist community supported by the Whitewater Arts Alliance. The community enjoys a rich history in entertaining the region with world-class theater productions; innovative art exhibits; and a variety of musical offerings by university students, faculty and locals alike.
We could not think of a better place to introduce the magic of storytelling and launch our inaugural Whitewater Storytelling Festival! The festival weekend, happening October 15-17, will be filled with fun ways to engage with local and regionally known storytellers, art galleries and creativity-inspiring activities. Stop for the day or stay for the weekend to take in the beauty of our Ice Age Trail community!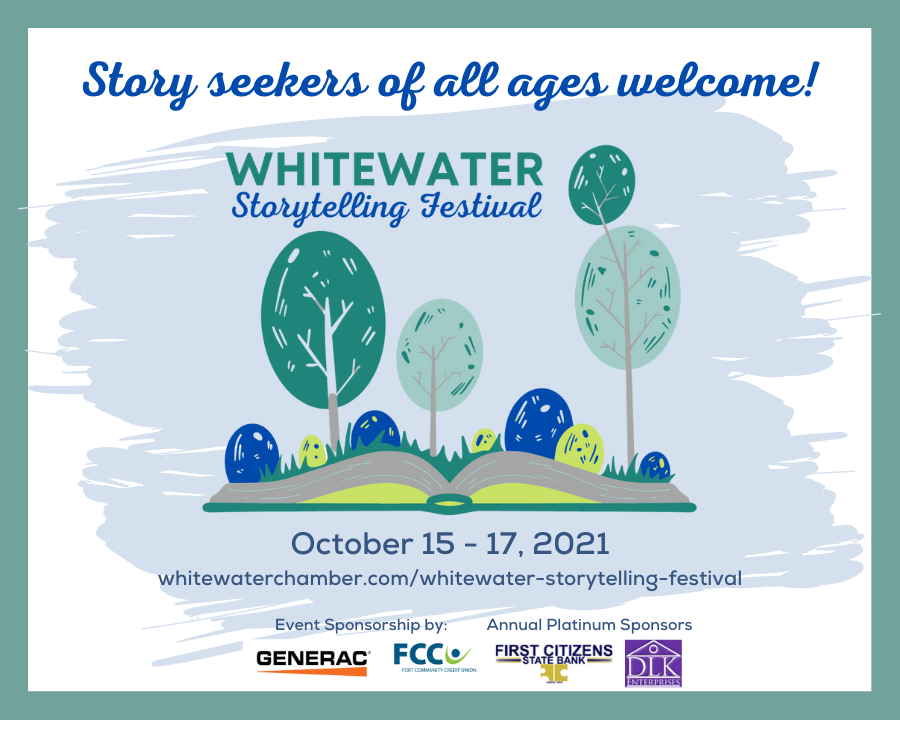 Family friendly weekend of fun . . .
You can make this charming university community your home base for a weekend of family fun. Your drive up through the Kettle Moraine to Whitewater will be filled with the gorgeous colors of fall. Start the fun with some campfire stories and s'mores on Friday evening.
Spend Saturday enjoying the tales being spun by local and regional storytellers and take part in some inspiring workshops. The kids will have great crafts and activities to enjoy plus a few storytelling sessions just for them! Saturday evening could find you enjoying some adult-only storytelling sets or enjoying an open mic night at our local bookstore.
Enjoy the quiet of Sunday by spending time on the Ice Age Trail creating your own stories.
Creative adventures happen here . . .
Fill your downtime by sharing farm-to-table eats, tasting locally crafted brews and wine, walking through the arboretum on the university campus, strolling through local art galleries and enjoying our many parks. You'll find lodging accommodations to meet every need from historic bed & breakfasts to well-appointed hotels, family friendly campgrounds and hidden away Airbnb's.
Visit the Discover Whitewater website for more information on planning your adventure!